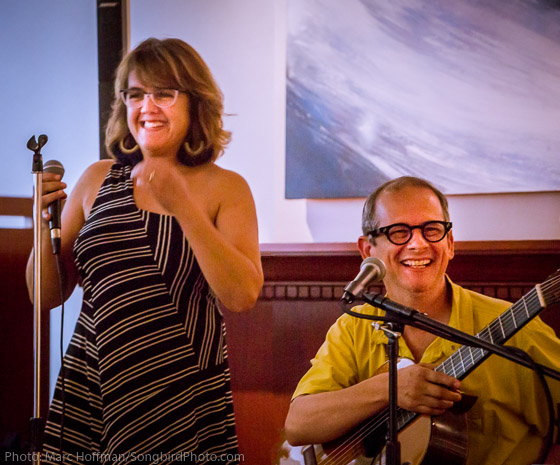 Get ready for a festa tropical when Brazilian musicians Adriana Giordano (singer) and Marco de Carvalho (guitarist) perform together at our next concert, Saturday, August 26, 2017, from 7-9 p.m. Doors open at 6:30.
Reservations Full!
Get on the Wait List

These two are the real deal. Initiated into jazz in their native Brazil, they are both seasoned performers who now live in the Seattle area and who each play with a multitude of other top-notch musicians and groups. For this performance, however, they're keeping it small and intimate, giving listeners an opportunity to savor the rich interplay of their individual talents.
As the lead singer for Seattle groups EntreMundos Quarteto and septet En Canto, Adriana is known for her ability to deliver "…fun, engaging music that is full of heart and energy." [The Seattle Times]. Her musical influences include Elis Regina, Joyce Moreno, Tom Jobim, Milton Nascimento, Filó Machado, and Gilberto Gil. Adriana's company, Giordano Productions, has been the driving force behind some of Seattle's liveliest Brazilian, Latin, and Caribbean musical events.
Marco, who began playing guitar when he was 14, has been a performer, composer, and arranger for over 30 years. All About Jazz has called his music "…cliché-free, non-flamboyant, and mature…His compositions and arrangements…[are] suffused with the melodic tropical sensuousness so characteristic of his native country."
Here are 2 YouTubes produced by Marco: "O Mundo é um Moinho" and a sampler of 3 melodies:
Due to Adriana's and Marco's enormous local popularity, we recommend you make reservations early, as a sold-out show is practically guaranteed.
At our last house concert (June 25th), John Standefer played to a (literally) hot but enthusiastic audience:

See more photos, full-size, from this show
.
About Duvall House Concerts
We call it "kick-ass music in a laid-back setting," and that pretty much says it all. We want you to have the rare and wonderful experience of hearing great music in a relaxed home environment. Come visit us in the charming town of Duvall—just 40 minutes from Seattle— and enjoy the performance in the company of friendly people who appreciate fabulous music!
We provide light refreshments (you're welcome to bring food and beverage to share). There's a requested donation of $20, which goes directly to the musicians.
Because this is a small venue (35 seats), reservations are required—we encourage you to Reserve Seats ASAP! We'll get right back to you with an email confirmation, including our address, directions, and additional details.