Choro das 3 ("Choro das Três") is an exhilarating trio of sisters playing music from their native Brazil. Their primary style is Choro, a 20th century style that features fast, precise playing and a dramatic Latin flair (this YouTube says it all!). In 2008, they were the first all-instrumental group to win the prestigious award Best Popular Music Group in Brazil from the Brazilian Association of Art Critics.
They've played venues of every size, from house concerts to festivals of well over a million people, balancing impeccable technique with a playfulness that makes one think "all families should be this joyful."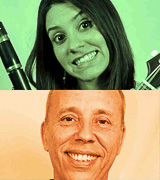 Choro das 3 includes Corina (flutes), Lia (7 string acoustic guitar), Elisa (mandolin, clarinet, banjo and piano), and their father, Eduardo (pandeiro and percussion).
 
Their 2018 US Tour includes just four concerts in Washington State, of which we're the only house concert—we're ecstatic that they chose us!

Reservations are required. Since our concerts generally fill up, we suggest you reserve your seats as soon as possible. Because there are 4 musicians with significant travel expenses, the requested donation will be $25 rather than the usual $20.
 
About Duvall House Concerts
We call it "kick-ass music in a laid-back setting," and that pretty much says it all. We want you to have the rare and wonderful experience of hearing great music in a relaxed home environment. Come visit us in the charming town of Duvall—just 40 minutes from Seattle— and enjoy the performance in the company of friendly people who appreciate fabulous music!
We provide light refreshments (you're welcome to bring food and beverage to share). There's a requested donation of $20, which goes directly to the musicians (occasionally we request more for larger groups or long travel distances). Please bring children only if they can sit quietly during the performance—we love them, but we don't have a space where kids can be kids.
Why Are Reservations Required?
Our venue is small (30 seats), so reservations are required. We encourage you to Reserve Seats ASAP! We'll get right back to you with an email confirmation, including our address, directions, and additional details. You pay when you arrive. All we ask is that you let us know if you need to cancel.